Each summer we welcome couples into our little corner of paradise to experience the some of the best moments of their lives – it's our honor and pleasure to take part in such a special process!
Here at Falling Water Gardens, we offer incredible flexibility in many ways, including where and when you hold your ceremony and reception, and the vendors you use.
Come along with us on a virtual tour of the facilities here, or read below for a written walkthrough. As always, we are open for tours year-round and host a special open house on Mother's Day!
Wedding Venue Virtual Tour
There are things you'll find at Falling Water Gardens that simply don't exist elsewhere. There are more than a half dozen unique water features and koi ponds, in addition to the labyrinth and multiple ceremony and reception options – but we'll get to that!
This is the Dolman water feature – think stonehenge with a waterfall – popular for photos! It's one of the things that makes us "falling water gardens," and is one of several photo op locations you can visit without having to leave the grounds here.
Next, plan to visit our lake: 100,000 gallons with a seating area and stone walkway. This area, and the rest of the nursery, are lit up at night and accessible to guests for the entire event!
Up front is a guest-favorite, the display koi pond. This is popular with kids and adults alike! Guests can feed these beautiful fish and is a wonderful memory for your wedding-goers! Just check our instagram after your wedding and see how many people posted from right here!
Between the two main ponds, you're likely to meet one of our free range roosters or one of several cats. The peacocks and pigeons are in the aviary, but the roosters may keep an eye on guests as they visit the grounds.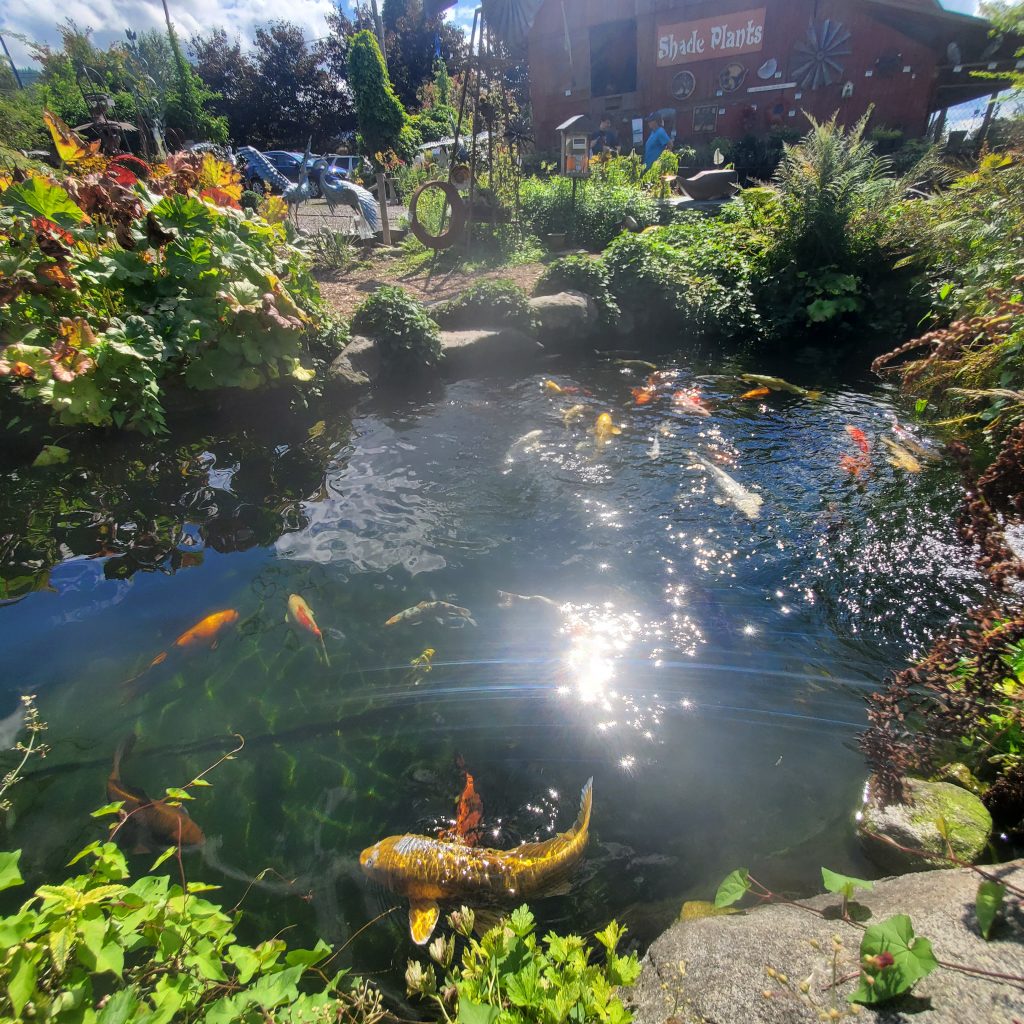 This is the upper lawn, one space that can be used several ways! It's adjacent to the footbridge and archway which are popular wedding ceremony locations for smaller weddings. With the bamboo on one side and trees on the other, and with the stream bubbling in the background, this is a wonderfully intimate place to exchange rings!
The upper lawn also hosts cocktail hour for many weddings, as the bar is located here. We have a kegerator with dual taps and an *incredibly* flexible alcohol policy: We don't have restrictions on bar vendors, unlike some venues that only allow beer and wine, limit cocktails or require weddings to use their in-house vendors.
Next to the upper lawn is our stunning raised lily pond, both a part of the on-site aquatic nursery but also a striking show piece and unforgettable place for photos.
Across the upper lawn is our catering and vendor-prep area, hidden behind tapestries during the summer season. As with our alcohol policy, we don't have restrictions on catering! We allow you to bring your caterer or even self-cater if you choose.
Learn more about recommended vendors at Falling Water Gardens, and our vendor policies below.
Labyrinth at Falling Water Gardens
Working a little closer to the main venue, we have our one-of-a-kind labyrinth. Many, many couples have used this area for a striking first-look, and we've even had a wedding here! It's another wonderful experience for guests and a good place for kids to burn off some energy.
Like the rest of the property here, the labyrinth is open to the public when not in use for a wedding or other private event. You're welcome to come walk the paths and enjoy the gentle fountain at the center during business hours.
Learn more about the labythinth on our nursery website!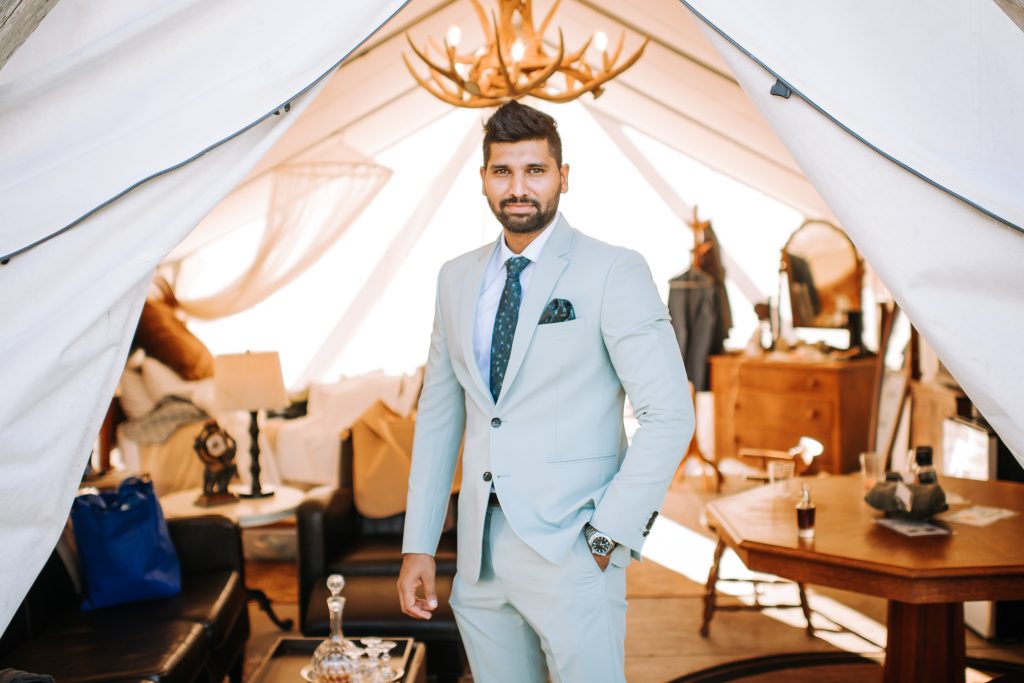 Just above the labyrinth are our glamping tents. These are sensationally decorated and large enough to accommodate the bridesmaids and groomsmen separately so they can prepare for the big day! The tents have power and lots of mirrors and are simply a joy to be in.
The glamping tents are also listed on AirBnb, so you can always stay in these during the summer season! They are usually set up in mid-May and are taken down in early September.
From the tents, you'll be able to spot our little herd of goats and alpacas and our lovable livestock dog, Kopec. They're friendly and always happy to greet guests as they arrive, as the goats live next to the acre of parking! It holds up to 220 vehicles with easy access to the venue.
Now, the jewel of the facility here: our formal sunken wedding garden. This is where most of our weddings take place, and where most couples have their reception. It's designed to be in flower for the entire wedding season, with the colors shifting slightly as we roll from late spring into summer.
We have tables and chairs for up to 200 guests, with a 30×50 tent ringed with perimeter lighting and a pair of chandeliers. Two additional tents in the corners of the garden are typically used by DJs or for a bartender buffet. There's a dance floor here, and the tent is set on concrete. 
At the edge of the garden we have lawn games like giant chess and checkers, corn hole, giant jenga, bocci and croquette. 
If you've done wedding tours elsewhere, you're probably used to the 'a la carte' setup where all these things are options available at an extra cost. Not here! Everything you've seen so far, and everything we have, is included at one price. One – including our "closet" of extra stuff like a PA system, photo booth, easels for signs, gold chargers, white vases, candelabras and more.